Highlights:
Unlock more value: Integrations allow you to connect HubSpot to other platforms, unlocking more value from your CRM. Benefits include a 360-degree customer view, personalized marketing, and streamlined workflows.
Three types of HubSpot integrations: Built-in/native integrations, App Marketplace integrations, and custom API integrations.
So many options: Built-in integrations like Google Calendar and Gmail are easy to set up. App Marketplace has 1,000+ integrations like Salesforce, QuickBooks, and Zapier.
Custom integrations can be worth it:

Custom API integrations allow

you to connect

virtually any platform to HubSpot but require more technical work. 
HubSpot Integrations for Biotech Marketers
As biotechnology marketers, we want to get the most out of the tools we use daily, and that is especially true for our customer relationship management (CRM) system. If you're using HubSpot, you're in luck, thanks to the sheer number of HubSpot integrations out there.  
HubSpot integrations allow you to connect HubSpot to other tools and services to enhance your capabilities and create seamless workflows. Let's explore ways you can integrate HubSpot with other platforms to unlock more value from your CRM.  
Benefits of Integrations
Integrations provide a wealth of benefits, including: 
A 360-degree view of customers in HubSpot by bringing data in from other systems
More personalized marketing with insights from connected systems
Streamlined workflows instead of toggling between apps
Using data in new ways to

generate unique insights

Automating tasks and workflows across platforms
Integrating HubSpot with your existing stack allows you to get exponentially more value out of the platform. You can unlock capabilities not natively available in HubSpot and create a centralized hub for your data. With HubSpot as the "hub" for all your platforms to come together and maximize productivity, the power is in your hands. 
Types of HubSpot Integrations
There are three main ways to integrate other services with HubSpot: 
1. Built-in/Native Integrations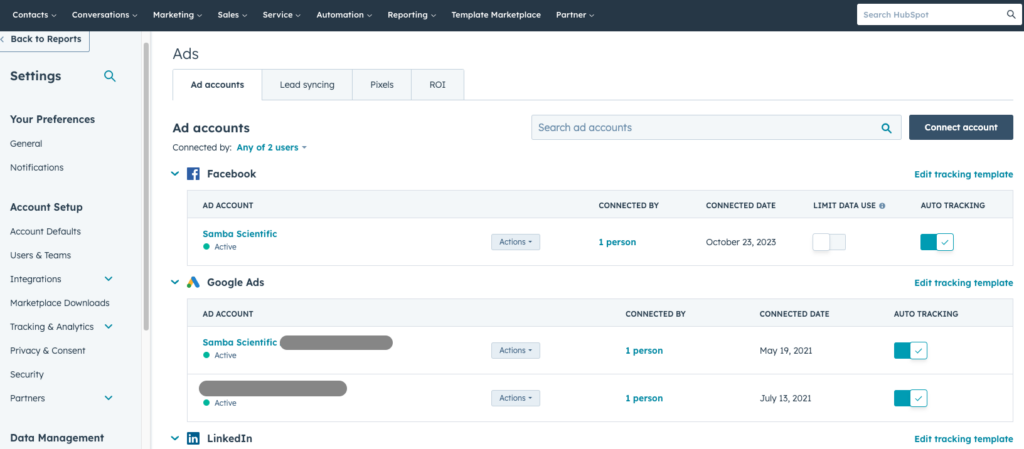 HubSpot has out-of-the-box integrations with some of the most popular tools. These include: 
Calendar apps like Google Calendar and Office 365 Calendar
Phone systems to log calls in HubSpot
Email services like Gmail to track emails in contact records
Ad platforms like Google Ads and LinkedIn Ads to connect ad data
Social media platforms like Facebook, Instagram, and LinkedIn to publish and monitor social posts
Analytics platforms like Google Analytics to import website analytics data
SEO tools like Google Search Console to incorporate search data
The built-in integrations allow you to connect these services and sync data with just a few clicks. They're easy to set up and they streamline your daily work in one platform.   
2. App Marketplace Integrations
With over 1,000 available apps, the HubSpot App Marketplace is like Grand Central Station for integrations. This vast marketplace contains pre-built connectors for just about any app or service you could want to integrate with HubSpot. Whether you need to incorporate data from your accounting platform, sync your social media channels, or automatically transfer contacts from your website forms, there is likely a ready-to-install integration waiting for you. Simply log in to the Marketplace and search for the integrations below.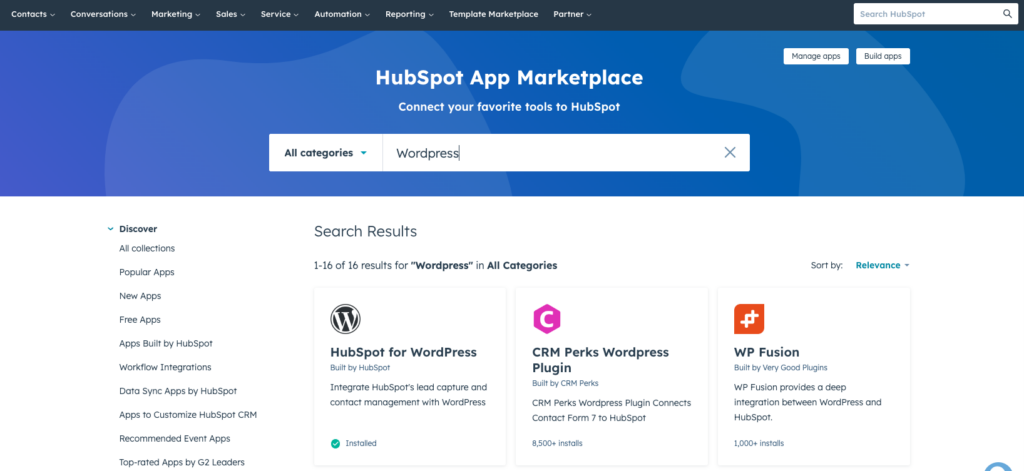 WordPress
What it does: The HubSpot WordPress integration allows you to capture and engage site visitors directly within HubSpot using tools like lead forms, live chat, email marketing, and more. 

 

Ease of Setup: Generally straightforward. It involves installing the HubSpot plugin on your WordPress site and connecting it to your HubSpot portal. 
Cost: Base integration features are free. Premium functionality is available for an additional cost.

 
Zoom
What it does: The Zoom integration syncs your Zoom webinar and meeting data into HubSpot. You can leverage this for automation, lead scoring, and more based on Zoom engagement.

 

Ease of Setup: Simple process. Just link your Zoom account to HubSpot and enable the integration features you want.

 

Cost: Free integration. A Zoom subscription is required.

 
Vidyard
What it does: Vidyard for HubSpot enables you to host, track, and optimize videos for marketing, sales, and service. It provides video analytics and tools like CTAs. 

 

Ease of Setup: Moderately complex. Requires embedding videos and configuring tracking parameters.

 

Cost: Free version available. Paid tiers unlock additional capabilities. 

 
Unbounce
What it does: The Unbounce integration sends leads from your Unbounce landing pages directly into HubSpot for management and nurturing.
Ease of Setup: Very easy. Just connect your accounts and map form fields.
Cost: Free integration. Unbounce subscription required.
Salesforce
What it does: Provides a bidirectional sync between HubSpot and Salesforce to keep both systems updated with the latest customer data.
Ease of Setup: More complex, often needing careful data mapping and potential IT support.
Cost: Free integration. Salesforce subscription required.
QuickBooks
What it does: Syncs QuickBooks invoices and financial data into HubSpot for improved customer relationship management.
Ease of Setup: Moderately difficult due to required data mapping.
Cost: Free integration. QuickBooks subscription required.
Canva
What it does: Enables designing marketing materials and assets directly within HubSpot.
Ease of Setup: Extremely easy account linking process.
Cost: Free integration. Canva Pro is optional for more features.
YouTube
What it does: Tracks YouTube engagement and converts views into actionable marketing insights in HubSpot.
Ease of Setup: Easy to moderate setup complexity. Involves account linking and tracking configuration.
Cost: Free integration.
Vimeo
What it does: Similar to YouTube, captures Vimeo engagement data and makes it actionable in HubSpot.
Ease of Setup: Easy to moderate process of linking accounts.
Cost: Free integration. Vimeo subscription costs vary by plan.
Zapier
What it does: Connects HubSpot with thousands of apps for a wide range of automated workflows and data sharing.

 

Ease of Setup: Highly variable based on the complexity of zaps/workflows created.

 

Cost: Free for basic usage. Paid plans for more complex automation.

 

 
Cost can vary depending on the specific features you might need, so be sure to check the HubSpot App Marketplace to find integrations for your stack. The apps provide connectors you can configure to sync data between services. 
Don't be overwhelmed by the sea of integrations available. With some careful filtering and prioritization, you can identify the connections that matter most for your tech stack and workflows. The HubSpot App Marketplace puts the power of data integration directly in your hands. 
3. Custom API Integrations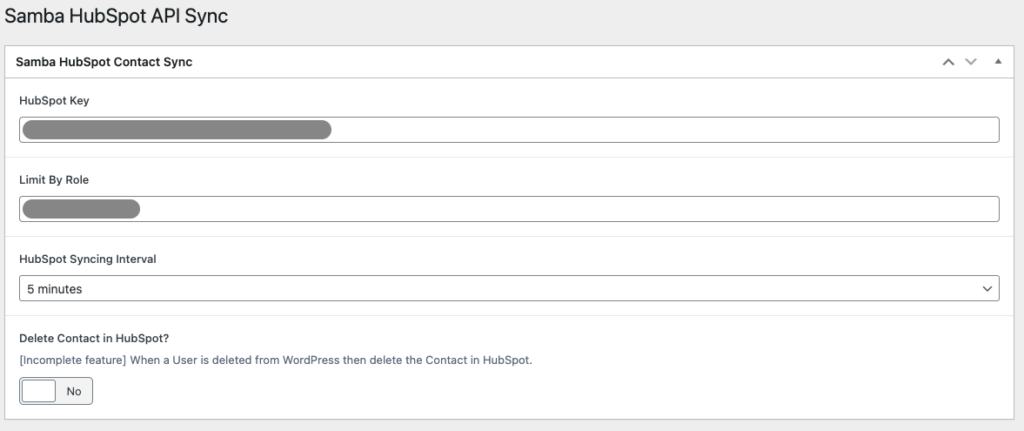 While there are loads of pre-built integrations, many platforms lack packaged integrations for HubSpot. In these cases, you can build custom integrations using APIs. Some examples include: 
Integrating membership data from WordPress into HubSpot CRM

 

Synchronizing WooCommerce order data into HubSpot Sales Hub 

 

Bringing key customer data from an external CRM like Salesforce into HubSpot Marketing Hub

 
Really, if you can dream it up, you can probably build it out! Building custom integrations takes more upfront work but allows you to connect almost any external platform with HubSpot. We recently did this for our biotech job board, Greatness.bio, to help migrate new contacts and their data from WordPress to HubSpot automatically. 
Conclusion
If you're a biotechnology marketer looking to get more out of HubSpot, explore these integrations using the built-in tools and App Marketplace. The right integrations can help you capitalize on all that HubSpot has to offer. If you want to dive into custom API integrations, we can help with that too!  
At Samba Scientific, we can help you with your HubSpot optimization. Let's chat about how we can automate or build custom solutions for you!