Quick Tips:
Social media management can be overwhelming. Adding others, such as internal social media managers or external marketing agency personnel, to help manage your social media accounts can efficiently use your time and resources. 
Meta's business manager account can be a powerful tool to manage your Instagram and Facebook ads' potential.
For many B2C and even B2B businesses, Meta Ads or Facebook, Messenger, and Instagram ads can be widely successful. They have a broad array of ad options and targeting capabilities to allow you to get the most out of your budget. For example, we love Facebook and LinkedIn lead gen forms because they allow you to capture lead information right on the platform.
If you already have a Facebook Business Manager Account, make sure you have Admin access, then follow the steps below to give people user access.

Giving access to your Facebook Business Manager will allow access to your Business Page, FB Store, and Ads Manager.
If you do not have a Facebook/ Meta Ads Manager, let us know, and we can set one up and provide you with admin access.
For more information on Facebook Ads Manager, you can visit the help center to get started.
To give people access to your business:
1. Go to Business Settings. You'll be directed to your dashboard. If you have multiple accounts use the drop-down in the left menu to find the business page you want to give access to.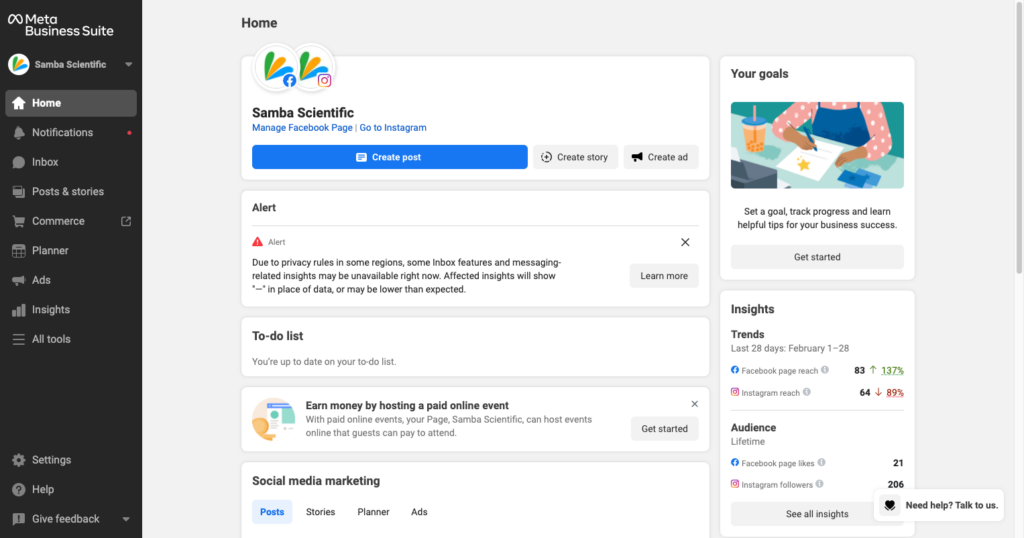 If you are already logged in you can click on the Settings in the bottom left menu.

2. Click 'People' in the menu on the left.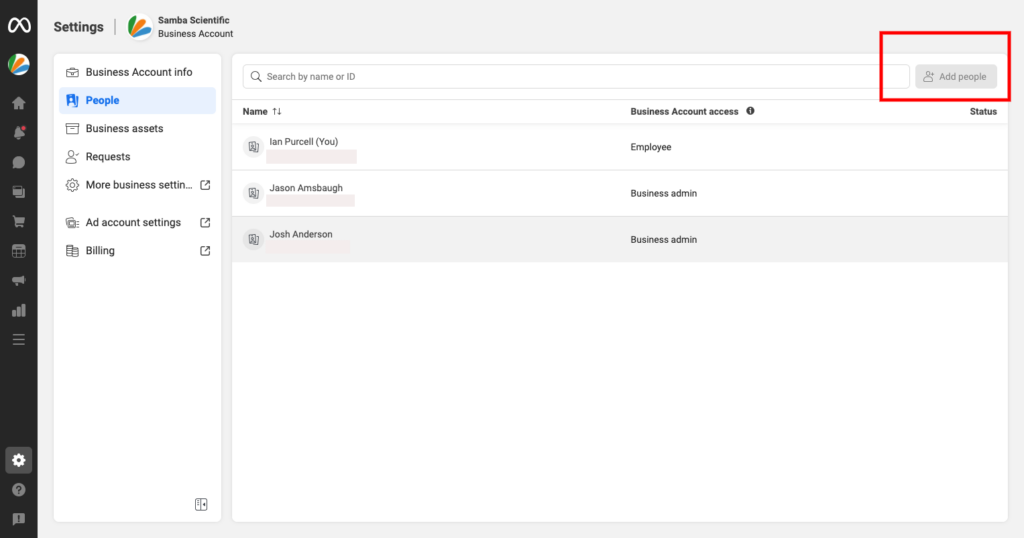 3. Click 'Add Users' in the top right-hand corner of the page. You need to make sure that you have admin access.
4. Enter the work email address of the person you want to add.
5. Select the role you'd like to assign them. Be sure to read the description for each role. Choose either Employee access or Admin access. You can also select Show Advanced Options to choose Finance analyst or Finance editor.
6. Click Next.
Select the asset and the task access you want to assign the person.
Click Invite.
---
If you're looking for ways to take your next Facebook or Instagram Ad campaign from good to great, let us help!  
Written by:
Ian Purcell is Senior Marketing Manager and Digital Marketing Team Lead at Samba Scientific. He has a wealth of experience in powerful brand management, advertising, and marketing campaigns for various industries, including but not limited to medical retail. You can find out more on LinkedIn.
Related Posts