Highlights:
Getting Started with Semrush: Discover the Semrush basics, how to set up your Semrush account, and how to measure your current SEO footprint and keyword positioning.
Unleashing Semrush's Top Features: Dive into the most powerful features of Semrush to maximize your keyword research strategies, analyze site health, monitor backlinks, and more.
Advanced Semrush Strategies: Explore the game-changing SEO tools at your disposal to perform competitor analysis, content planning, and next-level optimization of your website.
Tracking & Measuring Success: Monitor your keyword rankings over time, boost site traffic and build backlinks, and interpret your Semrush data to make informed SEO decisions.
What is Semrush? (and How to Set Up Your Account)
Search engine optimization (SEO) is the cornerstone of every effective digital marketing strategy, and at the center of SEO success lies a game-changer: Semrush. Semrush is an all-in-one digital marketing platform that provides comprehensive tools and insights for SEO. To maximize your SEO strategy, especially within a dynamic biotech industry, you'll need a deep understanding of your organization's SEO history, your website health, and the current competitive landscape.
Step 1: Getting Started with Semrush
To set up your Semrush account, visit https://www.semrush.com/, sign up, and choose a subscription plan that suits your needs – then, follow the on-screen prompts to register.

As you begin, you'll need an understanding of your current online presence, allowing Semrush's data and insights to steer your strategic decisions going forward. To see your current positions and gain access to all the tools that Semrush has to offer, launch your first project.
Expert Tip: When launching your first Semrush project, enter in your website's root domain (sambasci.com instead of www.sambasci.com, for example) so that the tools within can crawl and access your entire site.

Measure your Current SEO Footprint
Kick off your new project and measure your current visibility in search results by using the Domain Overview feature first. By entering your website address, you'll instantly see a comprehensive dashboard of site traffic, keywords, backlinks, competitors, and more.
Click on "View Details" under the Top Organic Keywords section for a full report on every keyword your website currently ranks for. Keyword rankings in Semrush change often, so be sure to monitor this frequently. You can access a similar report under the Organic Research section of the menu.
Next, set up the Position Tracking feature. With Position Tracking, you can manually enter the most important keywords for your website and track their performance over time, monitoring the impact of your optimization efforts.
You can source these keywords from a Google Search Console report, or from the reports available in Semrush's Domain Overview or Organic Research sections.
Step 2: Unleashing Semrush's Top Features
With your project set up, it's time to dive into the powerful Semrush features that truly make this a must-have tool for maximizing your SEO strategies.
Keyword Research
Level-up your keyword research with some magic – the Semrush Keyword Magic Tool.
Enter a primary keyword or topic relevant to your business, and Semrush will generate a list of related keywords, along with essential metrics like search volume and keyword difficulty.
Focus on keywords with a balance of volume and competition – these are your ideal targets. Incorporate them naturally into your content to improve visibility in search results. Plus, you can add these keyword ideas to your project(s) to track them as you optimize your site.
Site Audit
Run a site audit by entering your website's URL into the Site Audit tool. The tool will analyze your site's health, highlighting issues like broken links, slow-loading pages, and other technical problems.
Prioritize your fixes by starting with critical errors like broken links, then move on to improving page speed and addressing other issues. Remember that this is an ongoing process, and regularly performing site audits will ensure your website remains in optimal condition.
Backlink Analytics
Access the Backlink Analytics tool and enter your domain and watch as Semrush provides insights into your backlink profile.
Identify unwanted or "toxic" backlinks that may be harming your SEO efforts and disavow them. Simultaneously, focus on building quality backlinks by reaching out to relevant websites in the industry and creating shareable, high-quality content.
Tips & Best Practices
Remember the importance of high-quality, original content that incorporates your keywords.
Pay attention to on-page SEO elements such as title tags, meta descriptions, and header tags.
Regularly monitor your keyword rankings, site health, and backlink profile as you work.
Stay up to date with algorithm changes and SEO trends to adapt your strategy accordingly.
Step 3: Advanced Semrush Strategies
Ready to explore the best Semrush strategies at a deeper level? Let's look at some advanced tools that will set your website apart from the competition.
Competitor Analysis
Start by identifying your main competitors in the digital landscape. These are the websites and businesses that often rank for the same keywords or target a similar audience.
Use Semrush's Competitor Analysis tool to gain comprehensive insights into your competitors' strategies. Explore their top-performing keywords, backlink profiles, and most visited pages.
Pay close attention to keywords your competitors are ranking highly for and prioritize those that align with your goals.
Expert Tip: Study your competitors' content – what types of content are they producing, and how frequently? Are they blog post-publishing powerhouses? Do they offer a deep library of white papers and case studies? Identify gaps in your content strategy compared to your competitors and fill those gaps with high-quality, targeted content.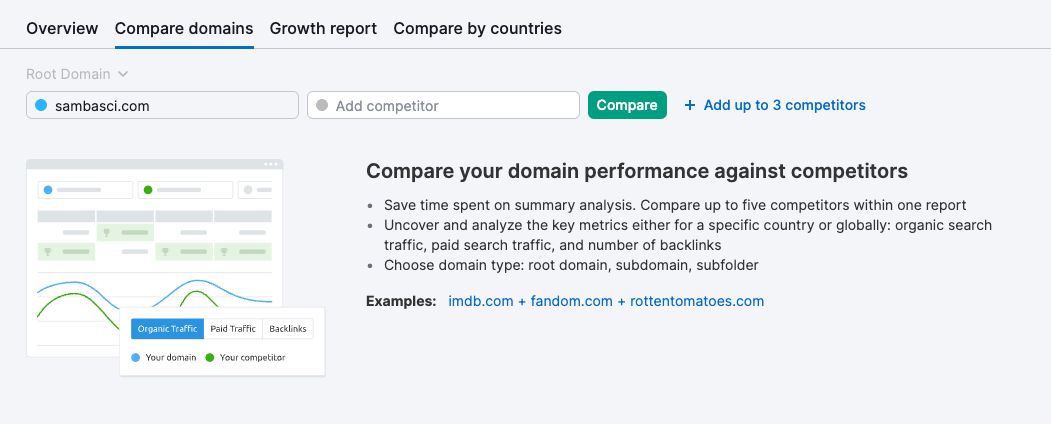 Content Planning and Optimization
Utilize Semrush's Content Marketing Toolkit to plan and optimize your content effectively. Start by researching relevant topics and keywords within your niche. The content marketing tools within Semrush include guides for topic research, an SEO writing assistant, and customizable content templates with recommendations based on your competitors' content.
Craft content that provides unique value to your audience, addressing their pain points and questions. Ensure it's well-structured, easy to read, and optimized for search engines.
Regularly monitor your content's performance with Semrush, paying attention to key metrics such as organic traffic, click-through rates, and keyword rankings. Revise and update your content as needed, keeping it fresh and in line with the latest SEO trends and algorithm changes.
Step 4: Tracking & Measuring Success in Semrush
After implementing your SEO strategy, it's crucial to regularly track and measure your success to ensure that your efforts are on the right path.
Tracking Results with Semrush: A Guided Approach
Utilize the features we've explored, like Projects and Position Tracking, to regularly monitor your website's performance. Configure the frequency of tracking updates (daily, weekly, or monthly) to stay up to date with your progress and fluctuations in search rankings.
Explore the My Reports feature in Semrush to generate customized reports which can be automatically shared with your team, showcasing key metrics and progress over time.
Interpreting Semrush Data for Informed Decisions
Use the data in your reports to identify which keywords are driving the most organic traffic and conversions. Focus on optimizing content related to these keywords.
These insights can also provide opportunities to improve other digital marketing efforts, such as keywords to target in a PPC ad campaign, subjects for email newsletters, and more.
Examine your competitors' performance and adapt your strategy accordingly. Identify what's working for them and find opportunities to outperform them.
Expert Tip: Remember that the best SEO strategies are marathons, not sprints. Use the tools in Semrush as you continually optimize your website, its technical health, and its content.
Maximize your SEO Strategy with this Semrush Guide
Semrush is a game-changer for biotech marketers and anyone looking to succeed in the world of SEO. By following the steps outlined in this Semrush guide, you can harness the power of Semrush to gain valuable insights into your SEO history, enhance your website's health, and stay ahead of the competition. Whether you're just getting started or exploring advanced strategies, Semrush's comprehensive tools provide you with the resources you need to achieve greatness.
Need some insight from a team of experts? We're here to support you as you embrace the data Semrush offers. It's time for SEO strategies that help you rise to the top.