Quick Tips for Capturing Qualified Leads
It's difficult to capture qualified biotech leads. With a long sales cycle, you need to find leads in the awareness stage of the sales journey where you can feature your technology in specific applications. Many biotech decision makers want to see data, but may not be motivated to dive into that level of detail just yet. So, how can you engage a new audience and capture qualified leads? Application specific webpages can entice early leads to learn how your technology can help them meet their specific goals.
Focusing on Applications to Drive Interest
Application specific landing pages are web pages with the purpose of converting a visitor to a lead or customer by connecting with their specific interests for example in oncology, infectious disease, or single cell sequencing among many others. Application specific landing pages are an easy way to introduce your offerings to a new audience. 
By offering something of value to a site visitor in exchange for their contact information, gated content can introduce prospective leads to your technology and how it can be practically applied to their area of interest.
Below are examples of application specific landing pages. Shown below are a whole genome and exome sequencing focused application page from Fabric Genomics and a CDx development focused application page from Flagship Biosciences. Gated content specific to the application is featured.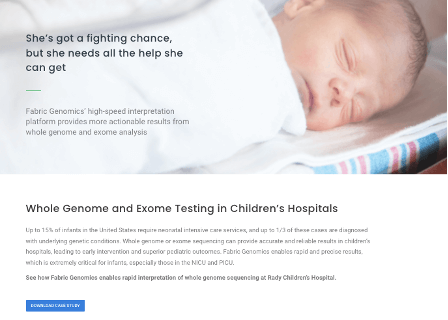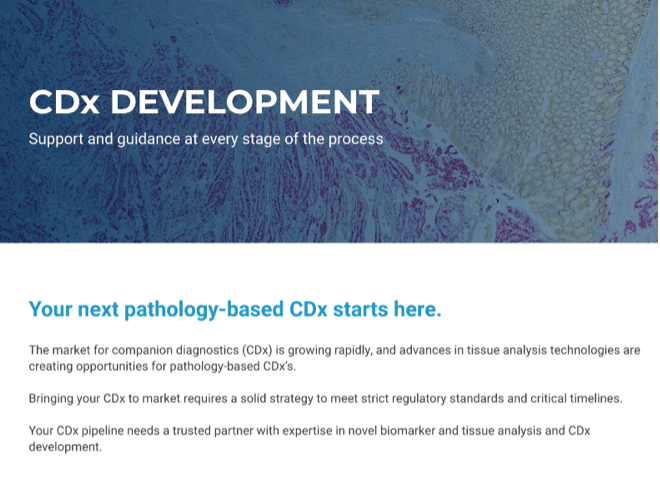 Application pages also establish your company as an authority in the featured field, building a sense of trust with prospective customers. Visitors can be directed to landing pages specific to an application without having to search for how a technology can be used. Instead, showcase how your offerings can be used for a particular application so that customers can clearly envision your technology in their hands.
Build an Application Specific Landing Page
We've looked at why you should add application specific webpages to your site, but what do you include on the page? Here are a few best practices and a look at an example from iRepertoire's website:
Feature a benefit-focused headline, copy, and imagery related to the application. Keep the content of the landing page focused on the application of interest, not an overview of your company and offerings. Remember that the purpose of the page is to draw in visitors by speaking directly to their field of interest. If they want to know more, they will navigate further into your site.

Focus on an application specific customer pain point or need and how your offering solves their problem, satisfies their need, or fulfills their purpose. By showing you understand your customer's experience, they are more likely to trust that you have a solution and will want to learn more.

This example is from the Immuno-oncology applications page on the iRepertoire website. Note how the benefit-focused headline is specific to the application of immuno-oncology. The short paragraph below describes how the featured technology can be used to meet a specific goal.

Offer something of value as a gated asset. Describe how the asset will help the customer or what they will learn by downloading the content. Give just enough information to pique their interest and prompt them to exchange their contact information for the asset.
Examples of gated assets
White papers
Case studies
Webinars
Posters
Application notes

Include a clear and stand-out call to action. Tell the customer what you would like them to do next: contact you, download the paper, or learn more. Add easy-to-see buttons with clear direction on next steps.

From the same immuno-oncology page, the featured gated asset is a case study that explores how the company's technology was used in application-relevant work. A clear call to action button is added to prompt the user on next steps.

Upon selecting the "See Case Study" button, a form fill opens to capture lead information and provide an accessible link to the asset.


Add a lead form for visitors to fill out to subscribe to your site to receive updates on your technology. If they aren't ready to dive into data, perhaps they are ready to learn more about you.

A simple subscription form may be useful for visitors wanting to learn more before getting into the details.



Incorporate application specific keywords to optimize SEO and help visitors find you. Relevant keywords should be included in the page title and throughout the page to help search engines feature your content.

Follow up with a thank you page or email to nurture your new lead. Include a link to the asset and additional links to your website. The thank you page will allow you to track conversions (along with your CRMs form submission analytics), and it's a nice gesture to build rapport with your prospective customer.
Additional Tips on Page Design
Consider the following tips to improve the performance of your applications page:
Ensure the page is mobile-friendly and quick to load. If visitors can't quickly access the site, they are likely to move on.

Remove navigation or competing links that draw your visitor away from the desired call to action. 

Monitor the effectiveness of your page and optimize content to increase conversion rates. Add specific conversion codes to the thank you page to track ad conversions if you are driving paid traffic to your applications page.

Consider including prompts with the gated asset when they reach the bottom of the page or triggered on exit intent. This provides an additional opportunity to capture a lead. 
Inbound Marketing Helps Visitors Find You
Several methods can be leveraged to drive traffic to your applications page. Send an email to your customer list or to a highly targeted email list to announce your new page. Post to social media sites or use outbound paid ads to provide links to your applications page. Don't forget to incorporate those specific keywords!
These tools work for several reasons. In an age of information overload, these tools provide users what they want—highly relevant, specific, and targeted information. You can cost-effectively A/B test different messaging to see what works for your target audience and adjust your strategy to improve conversion. Additionally, modern digital marketing tools allow you to remarket to specific prospects who have already shown interest in a particular application.
Optimize Your Marketing

To attract qualified leads, make sure that the message in your marketing tools (email, ad, social) aligns perfectly with the message on the applications page. You want to present a clear value to your customer gained by spending time on your site and clicking through to your asset. To encourage engagement, minimize the number of fields required on your information form (ie, first and last name, and email). Finally, make sure your page is technically accurate.  This is your opportunity to shine and showcase your expertise in the field!
Ready to build your own applications page? 
Let the team at Samba Scientific help you showcase your expertise
References
Written by
Samantha Bond is a Technical Content Specialist at Samba Scientific. With her M.S. in Microbiology and experience in and supervising labs, she writes engaging and scientifically accurate content for all of our clients. You can find out more on LinkedIn.
Related Posts