Quick Tips
COVID-19 continues to be a part of our daily life. As more variants come to the surface, it is essential to remain aware of your level of immunities at different points to prepare yourself for those critical events in your life adequately. Since there are varying types of immunity tests in the current market, it is important to understand their differences when selecting the best test for you.
At-Home COVID-19 Tests Available on Amazon
Vaccination rates of COVID-19 are increasing around the country. While vaccine production and distribution teams pick up their paces and work around the clock to deliver safe vaccinations to every American, there are simply too many unvaccinated individuals to see a drastic change in population immunity today. Until you have been fully vaccinated (had both doses, where applicable, and waited the appropriate amount of time to see full vaccine effectiveness), you are still at risk for contracting COVID-19.
So, what do you do if your family members, all with varying levels of immunity, want to gather for a wedding celebration, full of meal sharing, congratulatory hugs, and aunts whose cheek-kisses linger too long? The safest option is to join in on the fun virtually. Another approach is for everyone to get tested prior to attending to give some confidence to the group that no one is contagious with COVID-19 prior to travel.
Why choose an at home test?
Convincing family members to get a COVID-19 test appointment, stand in line with the potentially sick, then shove a stick up their nose, all for the sake of a hamburger with their loved ones is an uphill battle. Convincing your family members to use their rarely tapped into HSAs and FSAs to buy a very simple Amazon COVID-19 test is the solution you need if it's worth the money, convenience, and safety of shipping directly to your home.
Here we compare the top three COVID-19 tests on Amazon to help you pick your best option. Samba Scientific ordered all three of these tests and will walk you through their comparative pros, cons, conveniences, and prices.  
The contenders: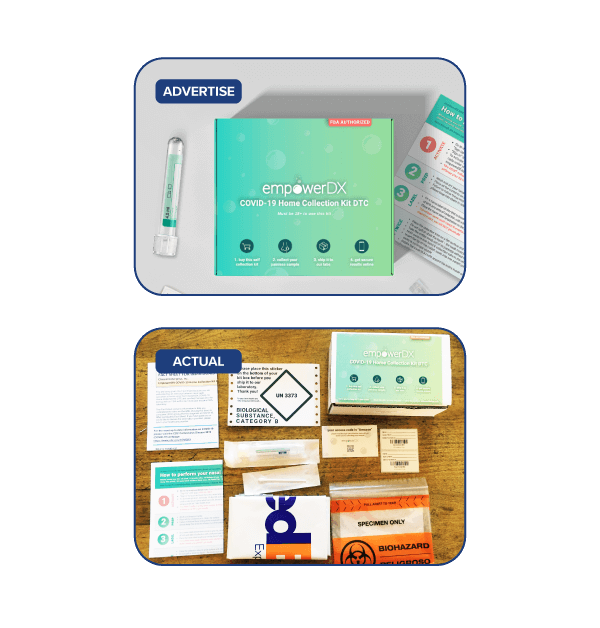 The empowerDX at-Home COVID-19 Nasal PCR Test was the first to arrive, impressively within 24 hours of ordering. Unfortunately for empowerDX, this is where its impressiveness started and stopped. The empowerDX kit has the look and feel of a prototype. Its craft-store box with a sticker on top made me uneasy when providing this high school biology project my personal and health information. Opening the box revealed a messy bounty of testing supplies. Among the fray was the last-sheet-in-the-printer style instructions.  
Application of empowerDX test
The empowerDX instructions were easy enough to understand until I got to step 2, registering my kit online. When I hopped online, I found the instructions there to be different from the ones in my kit, leading me to a fun, high stakes guessing game of "What I am supposed to do?" empowerDX made sticking a swab up my nose something to be confused by. After taking the test and packaging it, I sent it the same day using FedEx Express in their pre-paid oversized shipping bag. I received an email the next day saying my results were ready but was unable to view them, due to a myriad of problems no one could seem to solve. In a long exchange with the support email, I was asked to formally revoke my rights to HIPAA so they could send me my results in a PDF. I reluctantly did so.  
My experience with empowerDX was awful. It is an expensive test that appears as though it is a homemade test kit. The instructions in the kit and online differ, making confidence in test-taking a distant dream. Completing this elementary process with problems receiving results and waiving rights to health privacy were massively disappointing. Do yourself a favor and skip this one!  
| Pros | Cons |
| --- | --- |
| Arrived quickly after ordering  | Packaging  |
| Cheapest option evaluated  | Unclear instructions  |
|   | Problems accessing results  |
|   | Uncomfortable nasal swab  |
|   | Low-quality supplies in the kit  |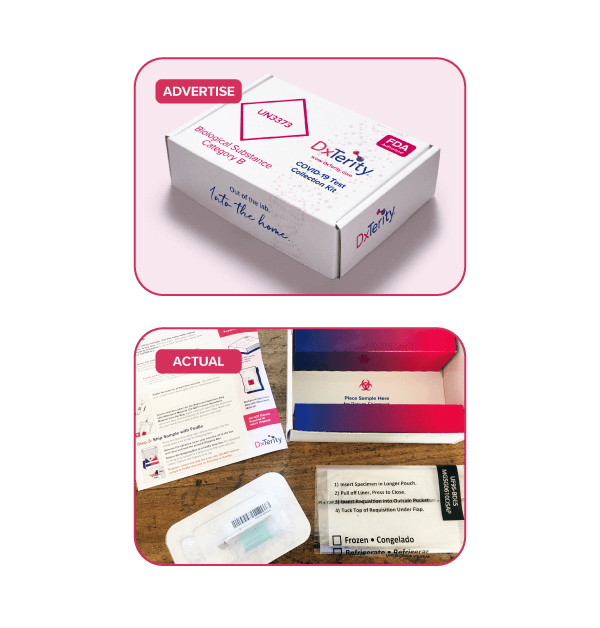 DxTerity's COVID-19 Saliva At-Home Collection Kit arrived the next day after ordering. This kit is extremely polished, high-quality, and professional. The kit came with 3 simple components, among them the easy-to-follow instructions. Registering the kit was painless and reinforced the kit instructions clearly.   
Application of DxTerity's test
Filling a vial with spit using their funnel system was incredibly simple and quick. I was surprised it required less saliva than I imagined after seeing the size of the collection tube. When I completed the specimen collection, packaged it up, and sent it out using their prepaid return shipping box. I sent my kit with certainty that I completed it correctly and that the company I was sending it to was trustworthy. The results came within 48 hours, though had they not, DxTerity is the only one to offer "results in under 72 hours or it's free," leaving me feeling there was nothing to lose by taking their test.  
The DxTerity kit also has well over 200 Amazon reviews, making it possible to make an informed decision to purchase. The overall response on Amazon to this test is positive and endorsing. The most common negative comment was spending $110 for a test that promised results within 72 hours and getting them a little later. After some digging, I found that 1) most reviewers who were fussy about this didn't read the packaging that clearly states you get your results within 72 hours from when your sample is received at the lab, and 2) if they fail, you get your money back AND still get your results!  
In my opinion, you don't have much to lose here. All in all, DxTerity's test was simple, painless, and fast! 
| Pros | Cons |
| --- | --- |
| Arrived quickly after ordering  | Priciest option   |
| Quick results and easy to access  |   |
| Professional packaging  |   |
| Simple kit to use, confidence in testing  |   |
| Easy kit registration  |   |
| Saliva-based test is painless and easy  |   |
| Endorsing, positive Amazon reviews  |   |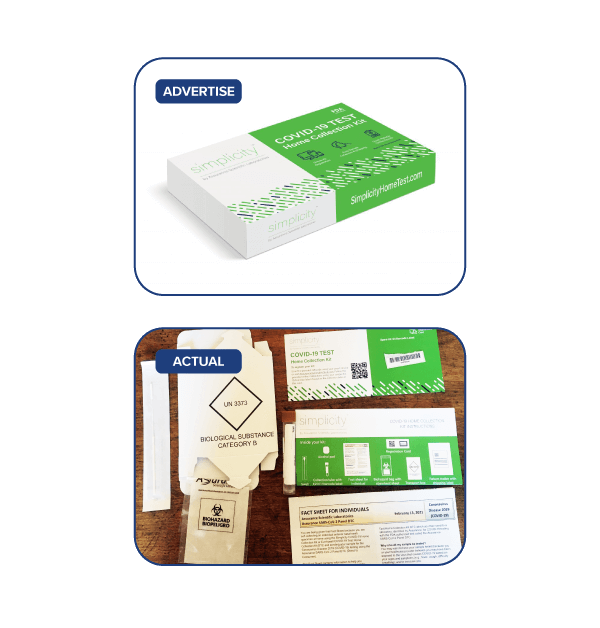 Simplicity's test showed up at my door about four days after ordering. The packaging was professional, and the kit came with numerous supplies organized in the box. The online kit registration was easy and guided me through the collection process using videos. This was really helpful and gave me the confidence that I was completing the test correctly. The nasal swab was much like you would experience in a health-care facility, very long and invasive. The Simplicity test was very uncomfortable, and the only relief that I found was sneezing. I wished it was a saliva-based test.
Unfortunately, it took about five days after completing and mailing the test to receive my results. I received a text message and email that my results were ready and was provided with a link to see them. This made viewing my results very easy. The lack of timeliness here greatly impacts the usefulness of this test, clearly lacking any semblance of real-time result reporting.  
In our opinion, Simplicity's COVID-19 Test Home Collection Kit is a product for those willing to trade comfort and quick results for a few extra bucks in their pocket. 
| Pros | Cons |
| --- | --- |
| Professional packaging  | Uncomfortable nasal swab  |
| Easy to understand instructions and videos  | Long shipping and results turnaround time  |
| Easy kit registration  |   |
| Slightly more affordable  |   |
The Bottom Line: Which Amazon COVID-19 Test to Buy
If you are deciding on which COVID-19 test to buy from Amazon, I would recommend spending the extra bucks and purchase DxTerity's at-home saliva-based test. It had the most professional experience, simplest kit, and quickest results. Additionally, impressed with this saliva-based test, it was much easier than the nasal swabs, and when you consider the clarity of instructions provided, this test is one I would buy for friends and family.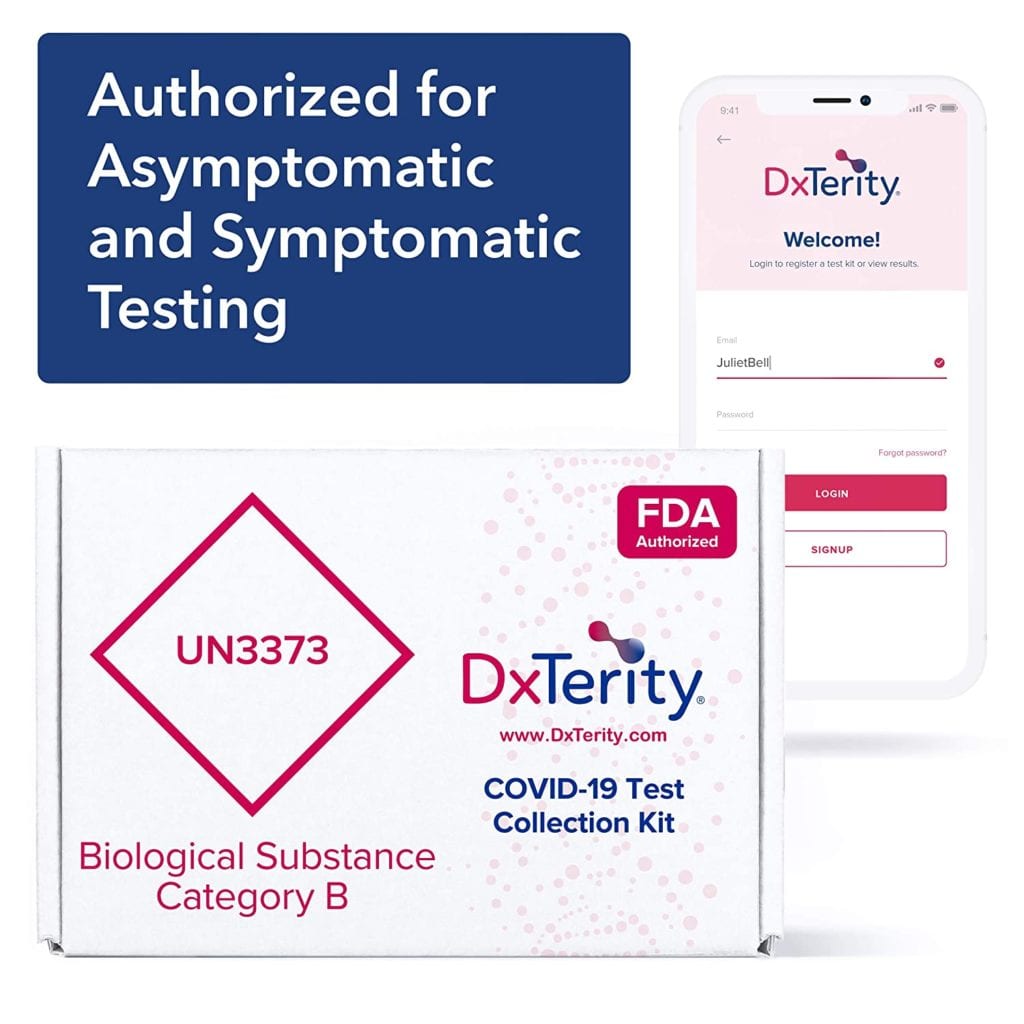 About the Author
Hey, I'm Emily, a Project Manager at Samba Scientific. You can find me writing when the fish aren't biting. Samba Scientific is affiliated with DxTerity, which provided me with the kits for testing and analysis.
Related Posts