From video to display to search ads, Google Ads can help you drive results.
Google Search gives you the ability to target certain keywords and then show ads in the search results. Google Ads can also serve display ads across Google and advertising partners in order to target particular audiences or retarget site visitors. This is a very powerful tool to reach potential customers that are already in the middle of your marketing funnel or if you're trying to break into a market.
With the budgeting and tracking capabilities of Google Ads, you can drive results for your business that truly matter. What better way to get in front of the right audience by showing up exactly when they are searching for your product?
If you already have an account, follow the steps listed below. If you are new to Google Ads, we can help set up your account and make you an admin to speed up the process.
For more information and training materials visit the Google Skillshop.
Log In to Google Ads
In most cases, if you have logged in before Google Ads (GA) will recognize your IP address.
*Note – If you have multiple accounts make sure that you are in the correct web account.
2. Once you get the dashboard you will see a cog labeled 'Tools and Settings' in the menu on the top right of your screen. Click that icon to open up the menu. Then click "Access and Security".

3. Once you are in the "Access and Security" you can create your new account by clicking the blue "+" button at the top right.
4. Once you are on the Add User's page, drop your user's email address and determine what their role is, and click Add.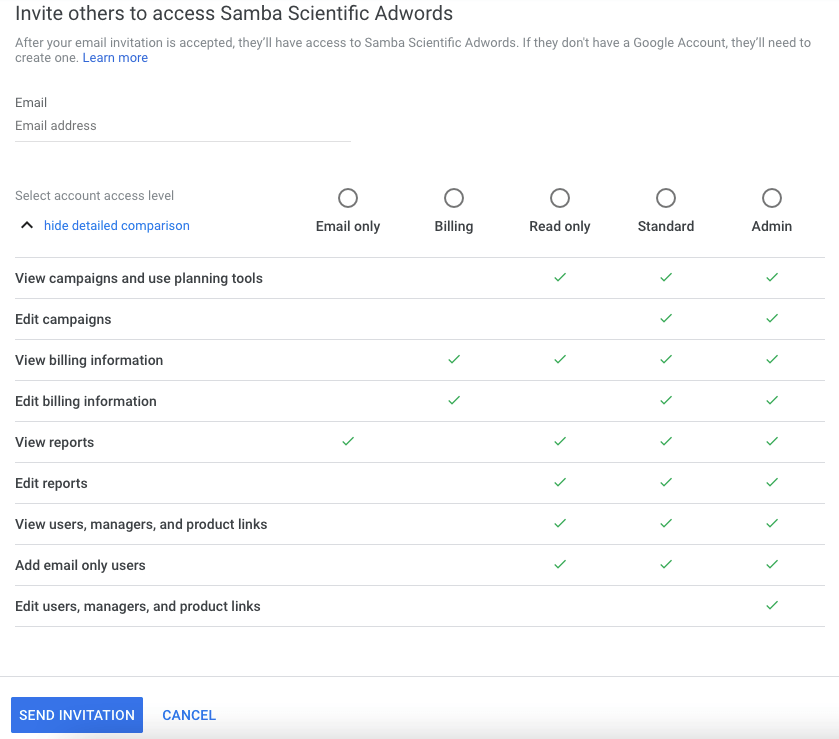 Note: If you are adding Samba Scientific to your GA account, we ask that you list us as an Administrator. This allows us to work without having to bug you constantly.

Pro Tip: Use a Gmail account when possible, the setup is much easier.

Once you have this set, Google will send an automated email to the new user.
---
If you're looking for ways to take your next Google Ad campaign from good to great, let us help!  
Related Posts