Highlights
MarkUp is an online tool for creating editable, shareable documents for review
MarkUp files retain the function and context of interactive assets for review
Collaborate and collect feedback in a single file
A simple tool to collect feedback on interactive website and graphic design projects
Collecting Feedback on Interactive Projects Shouldn't Be So Hard  
Collaborating on interactive assets like video, design, or web development projects can be frustrating. It's typical for multiple stakeholders to be involved in the review process, and it can be difficult, if not impossible to share some file types. Even worse, links sent to active files can result in accidental changes being made during review. To create a reviewable, shared file of interactive assets you may find yourself stitching together screenshots which loses the interactive context. It can be even harder to keep track of change requests scattered across multiple documents from various stakeholders. There's got to be an easier way. 
Good news—there is! Even better—it's free. 
MarkUp makes it easy to collaborate on interactive projects. With a free account, you can create MarkUp files from different file types, easily share with stakeholders, and collect their input in one place. Providing feedback is simple too—just enter your name and email address to create a guest account. It's that easy.  
Our clients love it too, so let us tell you how MarkUp is helping make our work a little easier. 
3 Features of

MarkUp

You're Sure to Love
1. Make Anything a MarkUp File with the Browser Plugin 
Need to leave comments about a website, video, or an Adobe file? MarkUp makes it easy to create editable versions of interactive documents by simply uploading the document into the program or pasting a link to an active website (Figure 1). There is even a browser plug-in that allows you to create a MarkUp file of anything you find online. 

A MarkUp file created from an interactive asset, like a website, retains the function and context of the website. The program essentially creates a copy of the asset, places it into a shared file, and eliminates review of live assets. 
2. Drop Your Comments into an Interactive Document 
Two key features of this program, "Browse" and "Comment", make collaboration easy. 
Within the MarkUp file, the "Browse" feature lets stakeholders interact with the asset as they add comments. MarkUp also lets you review webpages in desktop, tablet, and mobile formats and call out changes needed for each separately, using the "Comment" feature.  
The "Comment" feature lets you pin comments to the asset in the exact location where changes are requested. As comments are added, they are numbered. Each numbered comment can be opened, viewed, and replied to by all stakeholders making it easy to collaborate and collect feedback in one place. In addition, a screenshot of the asset is captured as part of the comment for traceability as assets are updated. Comments include the screen size, browser, and operating system information of the reviewer to help pinpoint issues regarding system incompatibility (Figure 2).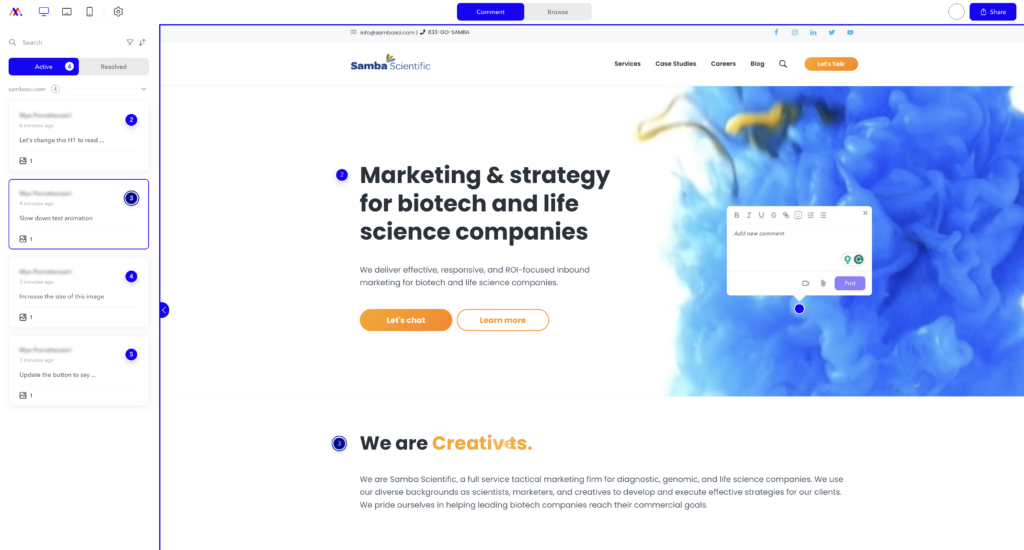 3. Give Your Feedback in a Variety of Ways
You can give feedback in a MarkUp document in 3 convenient ways (Figure 3). Add your changes as a written comment pinned directly on the asset. Complex change requests or directional shifts, however, are often better relayed using video—simply create a short loom video with your thoughts and add it to the MarkUp. You can also attach files in a comment if, for example, you want to simply replace one image with another. Provide your input in whatever way works best. 

Streamline Your Review Processes 
At Samba Scientific, we use MarkUp to create editable versions of interactive assets, like videos, designs, and webpage mockups to send to our clients for review and feedback. This tool has helped us streamline our review and editing processes and has been well-received by our clients for its ease of use. Now that you know about MarkUp, maybe it can help you too!