Google Tag Manager speeds up a plethora of processes.
Google Tag Manager (GTM) takes the embed code from Google Analytics, Google Ads, HubSpot… etc., and combines them into one code to prevent your website from submitting multiple, redundant HTTP requests, which can lead to slower site speeds and reduced SEO. GTM is a free tool that enables the setup and management of multiple "Tags" simultaneously.
If you already have a Google Tag Manager Account, follow the steps below to add anyone as a user. If you do not have a Google Tag Manager Account, we can set it up and integrate it with your other systems for you. For more information and training materials on Google Tag Manager check out the help section.
Log In to Google Analytics
1. Login to the GTM dashboard by clicking here.

2. If you don't have one set up yet you can walk through the setup wizard or let your Account Manager know and we can get that started for you. Just to know that we would need access to your site/ DNS to drop in code snippets.
Once you have logged into your account your dashboard should look like the one pictured below: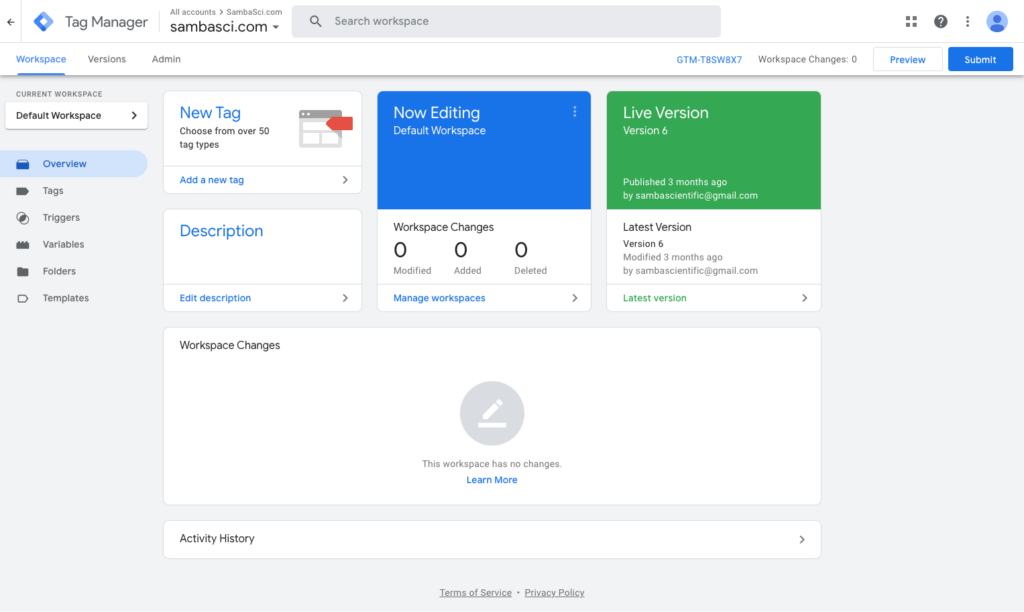 3. In the top left corner of the dashboard, you will see three tabs: Workspace, Versions, and Admin. You will click on the tab labeled Admin.

4. Once you are in the admin tab you will see a section that is labeled 'User Management'. Click this tab to add your new users.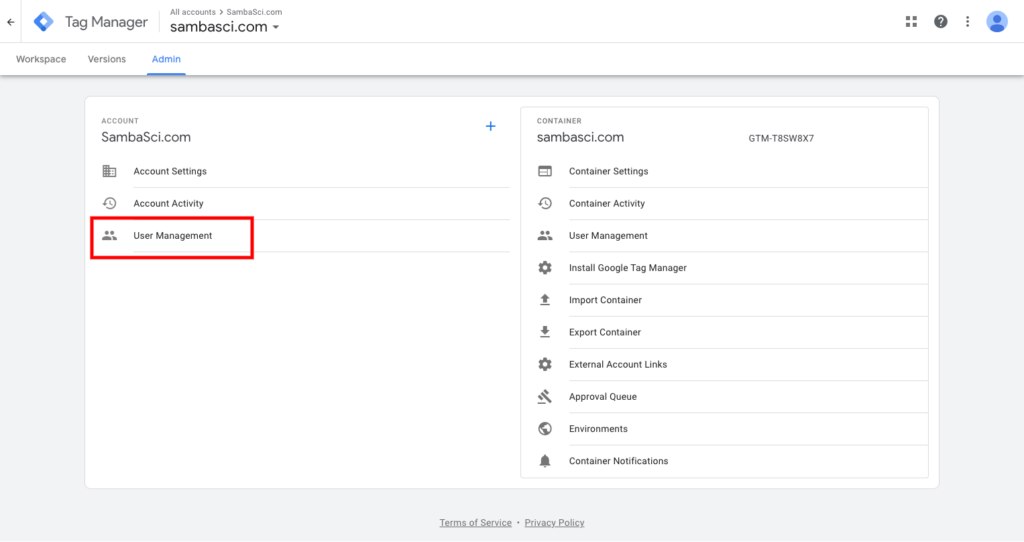 5. Set Account Permissions. User is selected by default, and this level allows the user to view basic account information. Select Administrator if the user should have the ability to create new containers and modify user permissions for accounts and containers.

Optional: Set Container Permissions for each container that you would like the user to have access to.
6. Click Invite. Each invited user will receive an invitation to use the container.
---
Need help with your specific Tag Manager account? Don't understand the relationship between triggers and tags? Let Samba Scientific help you out!
Related Posts